Culturally rich, yet so affordable
When you host an au pair, you receive full-time, live-in childcare for a low average weekly rate of $356. This is an exceptional value, especially if you have more than one child. At GreatAuPair, we offer the highest quality of service while keeping our program fees easy to understand, and most importantly, affordable.
Au Pair Program Fees
| | | |
| --- | --- | --- |
| 15 Days Free | $0 | GreatAuPair Trial Subscription. Contact Au Pairs Now. If you find your au pair in 15 days, we'll waive the Subscription fee. |
| Subscription | $60 | 30-Day Subscription to GreatAuPairUSA and GreatAuPair to access au pair profiles and begin matching. |
| Program Fee | $8,465 | $4,600 + $35 SEVIS Fee due upon matching, $3,865 due 14 days prior to au pair's arrival. Or use our easy Payment Plan Option. |
| Domestic Airfare Fee | $0 | No domestic airfare fee like other agencies charge, saving you approximately $450. |
| Total Program Cost | $18,508 | Program cost for hosting your J-1 Au Pair for 51 weeks based on the Minimum Au Pair Stipend of $195.75. |
Program fees do not include the mandatory U.S. Government SEVIS fee of $35, payable by the Host Family. Program Fee covers a 52-week program term. Premier Au Pairs are nurses or au pairs with over 1,000 hours of qualified infant care experience. Premier Au Pair Program Fees are $9,365. Due to the high cost of international air travel an airfare surcharge fee of $500 is required for au pairs traveling from certain regions including Africa, Argentina, Australia, Bolivia, Brazil, Chile, China, Eastern Europe, Japan, Mongolia, Morocco, Nepal, New Zealand, Philippines, South Korea, Thailand, and Vietnam. The Airfare Surcharge Fee is paid by the host family upon matching. The Minimum Au Pair Stipend (based on the federal minimum wage), Educational Reimbursement, Room and Board, and other program costs are subject to change based on updates to federal au pair program regulations. If relevant changes occur, GreatAuPair will notify its program participants.
Program Cost Breakdown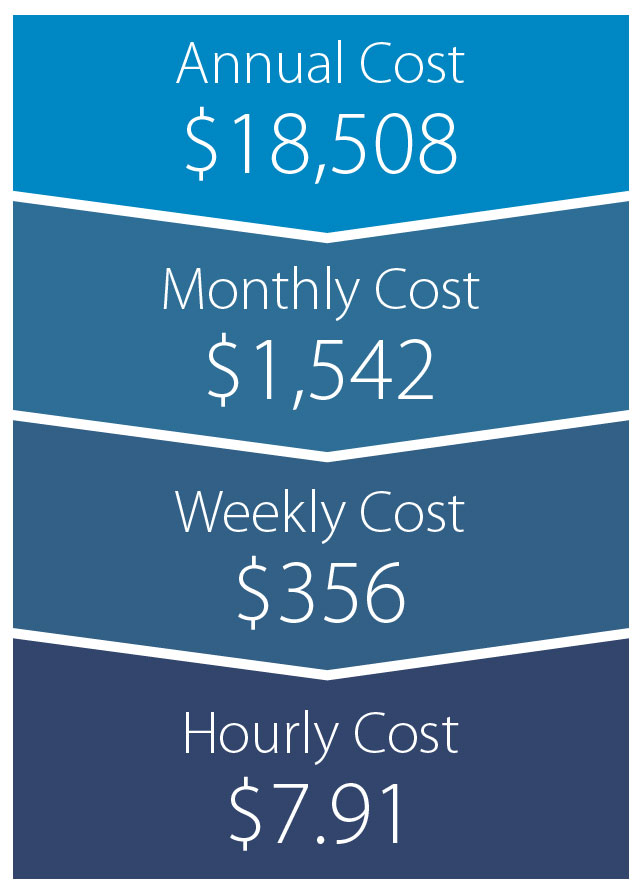 Your program fee covers
A carefully screened and trained au pair with a valid J-1 au pair visa
International airfare from the au pair's home country to your local community
Top quality travel and accident insurance for your au pair
Full support from our caring GreatAuPair team for the duration of your program term
Post-arrival orientation with your Local Childcare Coordinator
Monthly au pair activities organized by your Local Childcare Coordinator
24/7 Emergency support for you and your au pair
Your family background check (required by GreatAuPair USA)
Optional Expenses
Car insurance for your au pair if he/she is expected or permitted to drive
A cell phone for your au pair for easy communication
Recreational passes to parks, museums, or other attractions for children
In-Country Fees
| | | |
| --- | --- | --- |
| Program Fee | Varies | Program fees for in-country au pairs are billed at $705 per month (or a portion thereof ) for the time remaining on the au pair's visa. Payment is due in full upon matching. |
| Au Pair Transportation | Varies | You are responsible for the cost of transporting your au pair to your home from her current location. |
| Additional Months | $705/mo | Additional months of service are billed at $705 per month (or a portion thereof). |
Pre-Match Fees
| | | |
| --- | --- | --- |
| Program Fee | $8,465 | $4,600 due upon pre-match request, $3,865 due 14 days prior to au pair's arrival. Or use our easy Payment Plan Option. |
Due to the nature of work involved with pre-matches, GreatAuPair requires a down payment to begin the process.