GreatAuPair Payment Plan
Our payment plan makes hosting an au pair even easier. Get the same great service with the added benefit of spreading your payments out over six months. There's no risk to get started. Simply make a low down payment upon matching with your au pair and we'll auto charge your credit card according to the following schedule.
Payment Plan Option for 12-Month Au Pair Program
| | | |
| --- | --- | --- |
| 15 Days Free | $0 | GreatAuPair Trial Subscription. Contact Au Pairs Now. If you find your au pair in 15 days, we'll waive the Subscription fee. |
| Subscription | $60 | 30-Day Subscription to GreatAuPairUSA and GreatAuPair to access au pair profiles and begin matching. |
| Program Fee Down Payment | $2,885 | Down payment due upon matching.* |
| Program Fee Match Payment | $840 | Match payment due 14 days prior to au pair's arrival. |
| Monthly Payments (6) | $840 | Due every 30 days from the date of Match Payment. |
| Domestic Airfare Fee | $0 | No domestic airfare fee like other agencies charge, saving you approximately $450. |
| Total Program Cost | $18,808 | Program cost for hosting your J-1 Au Pair for 51 weeks based on the Minimum Au Pair Stipend of $195.75. |
*Includes a $300 payment plan finance charge. Program fees do not include the mandatory U.S. Government SEVIS fee of $35, payable by the Host Family. Program Fee covers a 52-week program term. Premier Au Pairs are nurses or au pairs with over 1,000 hours of qualified infant care experience. Premier Au Pair Program Fees are $9,365. Due to the high cost of international air travel an airfare surcharge fee of $500 is required for au pairs traveling from certain regions including Africa, Argentina, Australia, Bolivia, Brazil, Chile, China, Eastern Europe, Japan, Mongolia, Morocco, Nepal, New Zealand, Philippines, South Korea, Thailand, and Vietnam. The Airfare Surcharge Fee is paid by the host family upon matching. The Minimum Au Pair Stipend (based on the federal minimum wage), Educational Reimbursement, Room and Board, and other program costs are subject to change based on updates to federal au pair program regulations. If relevant changes occur, GreatAuPair will notify its program participants.
Program Cost Breakdown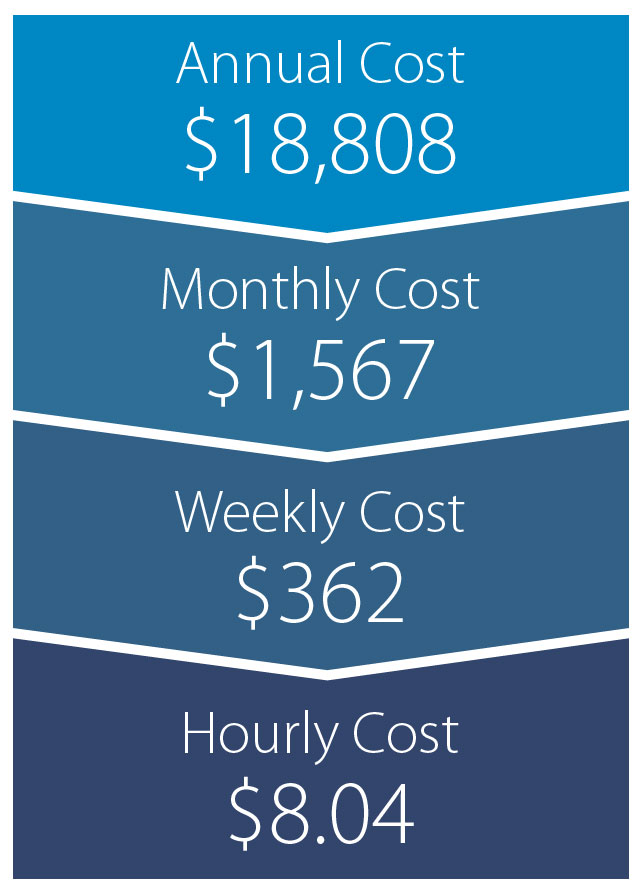 Your program fee buys you more than just quality childcare, it covers:
A carefully screened and trained au pair with a valid J-1 au pair visa
International airfare from the au pair's home country to your local community
Travel and accident insurance for your au pair
Full support from our caring GreatAuPair team for the duration of your program term
Post-arrival orientation with your Local Childcare Coordinator
Monthly au pair activities organized by your Local Childcare Coordinator
24/7 Emergency support for you and your au pair
Your family background check (required by GreatAuPair USA)
Other Costs
Minimum stipend in the amount of $195.75 paid directly to the au pair each week (calculated based on federal minimum wage; subject to change)
$500 Educational allowance for the au pair to complete Department of State required education
Costs associated with providing room and board
Optional Costs
Providing the au pair with car insurance if she is expected or permitted to drive
Providing the au pair with a cell phone
Recreational passes to parks, museums, or other attractions for children
In-Country Fees
Can't wait three weeks to greet an au pair? No problem! GreatAuPair also has au pairs who are already here in the United States and available for placement right now.
Cost
Program fees for in-country au pairs are billed at $705 per month (or a portion thereof) for the time remaining on the au pair's visa.
Payment is due in full upon matching.
You are responsible for the cost of transporting your au pair to your home from her current location.
Additional Months of Service
Additional months of service are billed at $705 per month (or a portion thereof).