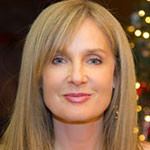 Jamie Pitts
EVP / Co-founder
Jamie's primary focus centers around customer satisfaction. She ensures consistent communication between all departments and helps to ensure that the values and vision of GreatAuPair are woven into the fabric of all we do.
In 2001, Jamie and her husband created GreatAuPair out of a personal need for affordable, high-quality childcare. What she didn't expect was the fulfillment this business endeavor would bring to her life. The au pair program has given her the opportunity to foster greater awareness and understanding between peoples and nations, and she truly enjoys seeing families form lifelong bonds with their caregivers. She loves to connect with people from all over the world, and the GreatAuPair USA program is a beautiful cause that she feels honored to serve.
Prior to working for GreatAuPair, Jamie was a psychotherapist working in private practice for a client base of individuals, children and couples. She provided life coaching and support to overcome difficulties and find greater happiness and purpose. She attended the University of New Orleans, the Professional School of Psychological Studies, and Ryokan College where she earned her Masters Degree in Clinical Psychology.
When she isn't restoring balance to other families, she enjoys spending time with her own family. She is married to her best friend and the source of great fun and adventure in her life. They have two wonderfully creative teenage children who have helped her learn how to surrender and to not sweat the small stuff. She loves to travel and experience new cultures. She has an interest in natural health and holistic nutrition and loves being in nature.
We'll connect soon. Meanwhile, you can register for free to get started.
- or -
Continue Browsing